Services
eBay Store
No matter your savviness or knowledge within the coin industry, HCC has something for you. From Lincoln cent albums to bank notes and high-end investment grade coins, we have one of the broadest store selections on eBay.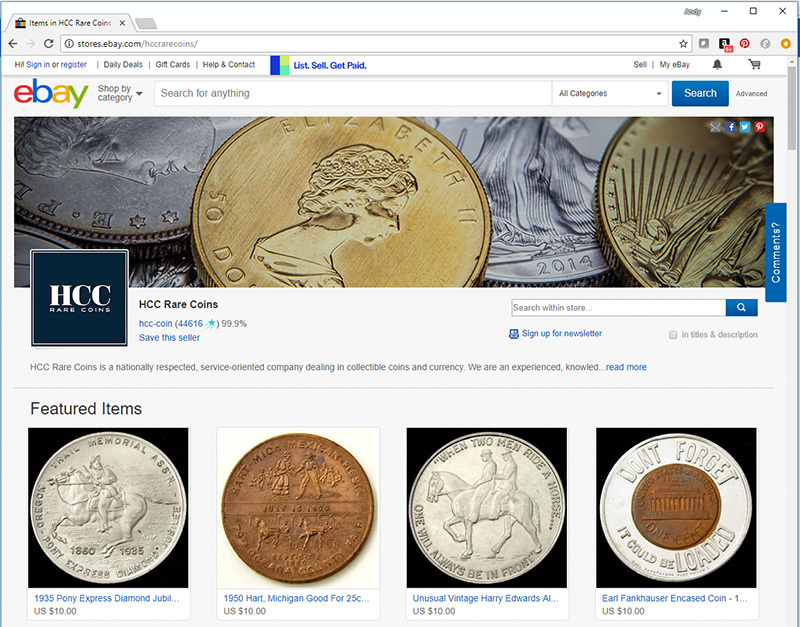 Many of our partners and allies, in addition to our direct competitors, only target one type of collector. Whereas, it is our goal to be able to provide interesting and unique items for all levels of collectors; from novice to expert; from beginner to veteran; from amateur to professional; we think you'll find what you are looking for at HCC. 
Our dedicated team of eBay professionals are constantly adding new listings and putting together lots found within our inventory daily. So, whether you are looking for a new hobby, or getting your child or grandchild involved in the numismatic world, or a coin guru, or currency aficionado looking to add to your collection, look no further than HCC. 
We have built this vast selection and assorted variety to accommodate you. Yes, ALL of you! 
Since we are adding items daily, if you don't see something you are interested in, check back frequently. But, if you are on a time crunch, don't hesitate to reach out to us directly and let us know what you need – let's see what we can do.