Services
Real Asset Investing
With two verticals in this investment package; Rare Coins and Bullion – and we do mean physical products you take and store for safe keeping – this uncommon, yet promising method of portfolio diversification is tailored to fit your needs.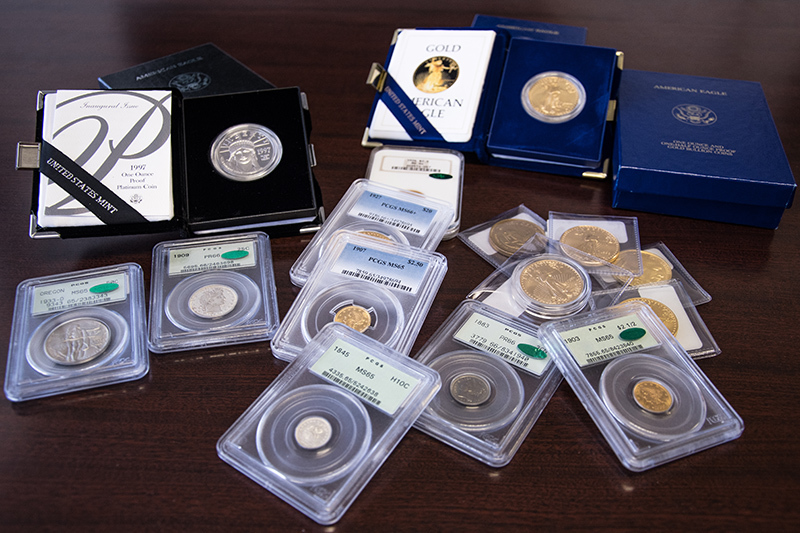 Real asset investing has been a part of our society for generations, however, not many people talk about it. Any why should they? They don't want you to know they have a treasure chest full of gold and silver coins fulfilling their childhood dreams of being a pirate. All that we can tell you, it was our dream too and now it's our job to help you acquire the right pieces for the right price. In addition to all the investment benefits they can provide, it is also a great way to pass on wealth. Let's start by focusing on the two different areas of interest.
Rare Coin Investing…
…is an art as much as it is a science. The marketplace has evolved a lot over the years. What was once a sure thing, isn't so much anymore. Whereas, other pieces have fared extremely well. It is our job to keep a constant pulse on the marketplace to serve our clients the best we possibly can. 
As you determine that this is your next investment, we will sit down and talk with you to establish your goals and where the marketplace is at that moment. As we understand what you want to do, we will take some time, compile a quality investment collection we believe in and will sit down once again to discuss the reasons why. From there, it is our job to monitor the market and advise you accordingly. That could be acquiring an additional piece, selling an item due to an unusual premium or just maintaining your current position.
We will keep you abreast to the moves in the market and where your collection currently sits as a result. We believe in this viable option for investing and would be happy to speak with you at a much greater length about it.
Bullion Investing…
…is equally, if not more, important than rare coin investing. Everyone we speak with, current client, potential client or simply an acquaintance, we tell them that you should have somewhere between five and 15% of your investable monies in precious metal physical assets. 
So, why do we say that? 
This is your investment insurance policy. Should something – and we hope it never does – happens to your investment portfolio, you can stay above water with this safe haven that typically holds an adverse reaction to that sort of market. Just think back to 2010-2012…But also, even in a thriving market, precious metal commodities hold up very well and typically yield a return of slow growth as well.
It's a hedge investment playing the role of risk manager on your investment portfolio. Although many people will state this is an advanced investing strategy, we don't necessarily agree with them. We focus strictly on quality bullion products offered from the U.S. Mint among others around the world. This approach removes the numismatic or collector value out of the equation, at least on the short term and makes it much more transactional. 
It's just flat out cool and fun. Seriously, think about it. What would it be like to own your very own gold, silver, platinum or palladium? Bars and coins alike. Sure, there are other vehicles and solutions you can find out there to accomplish this diversification – we even offer one of them in a Precious Metal IRA – but having some physical bullion in your possession just delivers a different type of satisfaction, while also adding new security measures to take (i.e. personal safe, safe deposit box, security system, etc…)